RIP Spock. RIP Leonard Nimoy.
Also, Film Bites has become Sam Flynn's 7 because a) my name isn't on this site enough yet b) it gives an excuse for the address of the blog.
1. Alien 5 speculation
Those who decry Alien3 (including its director) and Alien: Resurrection must have been happy when the  recently-announced director of the fifth Alien film Neill Blomkamp (District 9, Elysium), on a press tour for his new robot film Chappie, said he intended to make a "genetic sibling" to Alien and Aliens.
Combined with the concept art that Blomkamp debuted in January that led to his hiring – which featured a returning Sigourney Weaver as Ripley and Michael Biehn as long-dead Aliens character Hicks, complete with scars from that film – the quote was taken to mean Blomkamp was doing a Superman Returns on the Alien franchise. This refers to the 2006 Superman film that acted as a sequel to 1980's Superman II, ignoring the events of 1983's Superman III and 1987's Superman IV: The Quest for Peace.
Unfortunately, that deference and nostalgia backfired on that film because it failed to realize it was not, in fact, the 80s anymore. Could that happen here? Blomkamp later clarified his comments to Allocine that he would not ignore Alien3 and Alien: Resurrection, only that he intended to take inspiration from the first two films.
"My favorites are the first two movies, so I want to make a film that's connected to Alien and Aliens. That's my goal. I'm not trying to undo Alien 3 and Alien Resurrection, I just want it to be connected to Alien 1 and 2."
I've ragged on Elysium in other articles because it was such a disappointment after waiting four years for Blomkamp to follow up his incredible debut, District 9 but adding confidence and forgiveness to my repertoire, it seems he has a pretty healthy way of dealing with missing the mark. This is a quote from an interview with Uproxx.
"I feel like I f–ked it up. I feel like ultimately the story is not the right story. I still think the satirical idea of a ring filled with rich people hovering above the impoverished Earth is an awesome idea. I love it so much, I almost want to go back and do it correctly.

But I just think the script wasn't… I just didn't make a good enough film is ultimately what it is. I feel like I executed all of the stuff that could be executed, like costume and set design and special effects very well. But ultimately it was all resting on a somewhat not totally formed skeletal system, so the script just wasn't there."
That humility I think represents a glimmer of hope that Blomkamp knows going in how to make the best Alien film possible and one that has been anticipated since Aliens' credits first rolled in May 1986. If you haven't realized after the last 500 words, I'm a huge fan of the Lovecraftian sci-fi/horror film franchise, despite embarrassments (Alien vs. Predator) and disappointments (Prometheus). Alien is among my favorite films of all time and Aliens serves as an excellent example of a good sequel. It's still early and the concept art is just that. Weaver teased in there was much Nothing is official until the cameras start rolling, which will be in 2016 at the earliest for a projected 2017 release.
2. Dragon Tattoo sequel dead
What sank the 2011 American adaptation of Stieg Larsson's best-selling The Girl with the Dragon Tattoo? It certainly wasn't pedigree, as David Fincher and leads Daniel Craig and Rooney Mara (who received an Oscar nomination) delivered top-notch work. Sony fired a $90 million budget (for comparison, the 2009 Swedish adaptation, which catapulted Noomi Rapace to international fame and roles in Sherlock Holmes: A Game of Shadows and Prometheus, cost $13 million) as well as innumerable marketing dollars at it and Fincher spoke about creating a "franchise for adults."
Then it premiered and almost instantly became baggage. Craig's only roles after would be as Bond in 2012's Skyfall and the upcoming Spectre. Mara and Fincher came out unscathed but the question of when and if the sequels would happen hung over, as well as what happened to the first film that made it barely break even?
I can only say from personal experience that the filmmaking was impeccable (I mean have you seen the opening credits sequence?) but the story was literally the same. Any sort of narrative momentum that they tried to build was DOA because of their slavishness to the book. Watching it was like watching the original – plus $80 million in production value which didn't, unfortunately, translate to audience interest.
Now Mara told MTV that after years of delays and development, a sequel and the franchise appear to be dead.
"I don't think it's going to happen. I'm sad never to do it again, but it just doesn't seem like it's in the cards."
The one thing in the project's favor, as Fincher has pointed out, is the millions of invested dollars in paying those to write the script and develop the movies. The studio is less likely to walk away if there's already money on the table. Suggestions have varied from back-to-back shoots of the second and third films to excising Craig – and his salary – entirely.
3. Chastain joins The Huntsman
Rarely do prequels to dark fairy-tale re-imagining – in this case, Snow White & the Huntsman – have this pedigree of female talent. Although the opportunity to ride the wave of growing diversity in cinema and storytelling might explain why Frank Darabont of The Shawshawnk Redemption and The Walking Dead fame was once set to write and direct this movie no one asked for. In further news of talented people seemingly dropping acid before accepting film deals, Oscar-nominated Jessica Chastain (The Help, Zero Dark Thirty, Interstellar) has joined said dark fairy-tale re-imagining's prequel, which already boasts a returning Charlize Theron and fellow newbie Emily Blunt.
For starters, Kristen Stewart and Rupert Sanders were out from the start, after their illicit affair during production leaked out after release, and drew more scorn than positive attention. For Chris Hemsworth's co-protagonist the Huntsman, the film always seemed like a feeble attempt at franchising out on the Thor star's global exposure. Somehow, the $170-million budget and millions of marketing were paid off and now we have a prequel/sequel sans Snow White almost four years later.
Of course, Darabont dropped out, probably because he wanted it to be good and interesting. In a not-so-encouraging sign, 2nd unit director and visual effects artists Credric Nicholas-Troyan was promoted to director. But SOMETHING is drawing these incredibly talented actresses with more offers for work than time in the world. Hemsworth and Theron are most likely trapped contractually to the standard three-film deal but for Blunt and Chastain both to take the time out for this project, it can only raise interest in what this film could be.
SIDENOTE: Devin Faraci is right. Why is a film with these three Oscar-winning/nominated women called The Huntsman?
4. Ben Hardy cast in unspecified X-Men: Apocalypse role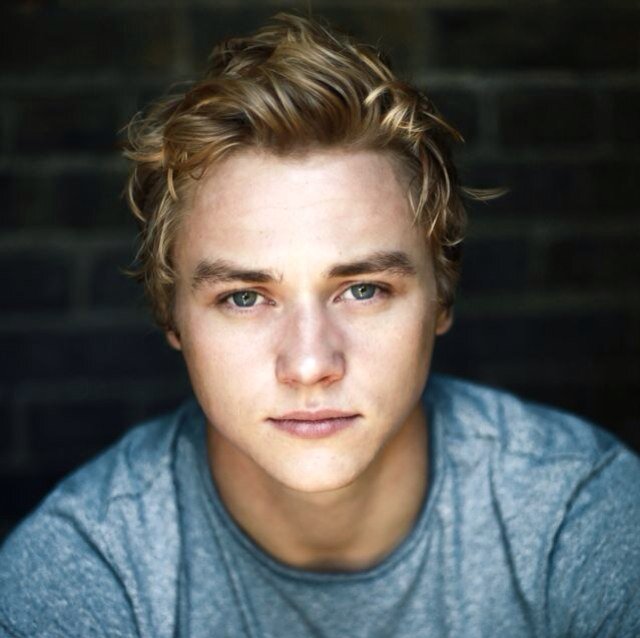 British soap hunk Ben Hardy – last rumored back in November for the Cyclops role that went to Tye Sheridan – has been cast in another key, unnamed role. However, given that he looks like the latest and greatest Ken doll, it lines up with the character of Warren Worthington III a.k.a. Angel, a founding member of the X-Men last seen played by Ben Foster in the now-irrelevant X-Men: The Last Stand (Thank god for franchise-resurrecting time travel).
Interestingly, TheWrap's Jeff Sneider says the role is NOT Angel but that that role also exists in the film. That makes sense, as one of Angel's most signature comic book arcs was as Archangel, one of Apocalypse's brainwashed henchmen, the Four Horsemen. If Angel is in the film and it's cast soon (as it has to; filming begins in April) that brings the major characters in the film up to 16.
Hugh Jackman as Wolverine
James McAvoy as Professor X
Michael Fassbender as Magneto
Jennifer Lawrence as Mystique
Nicholas Hoult as Beast
Rose Byrne as Moira MacTaggert
Oscar Isaac as the titular villain Apocalypse
Evan Peters as Quicksilver
Tye Sheridan as Cyclops
Sophie Turner as Jean Grey
Alexandria Shipp as Storm
Kodi Smit-McPhee as Nightcrawler
Channing Tatum as Gambit
Ben Hardy as ????
???? as Angel
Ian McKellen as older Magneto
5. Rocky spinoff Creed gets official synopsis
Rocky was properly sent off in 2006's Rocky Balboa. Stallone, the ever-persistent film star, had finally given his iconic character the send-off he deserved. It would take a fucking miracle to convince me that we needed, god forbid, a seventh film starring Sly as the character.
Then director of acclaimed 2013 film Fruitvale Station Ryan Coogler announced he would re-team with that film's star – upcoming Human Torch Michael B. Jordan – to play the previously-unheard-of son of Rocky's rival-turned-friend Apollo Creed. Played by Carl Weathers, he appeared in the first four Rocky films before he was killed in the ring by Dolph Lundgren's Ivan Drago. Not only that, Stallone would return and serve as the new mentor/Mickey character (played by Burgess Meredith in the first three films).
The new synopsis clarifies Jordan's son character, hilariously and appropriately named Adonis, as well as Rocky's role in this new story.
"Adonis Johnson (Michael B. Jordan) never knew his famous father, world heavyweight champion Apollo Creed, who died before he was born. Still, there's no denying that boxing is in his blood, so Adonis heads to Philadelphia, the site of Apollo Creed's legendary match with a tough upstart named Rocky Balboa (Stallone).

Once in the City of Brotherly Love, Adonis tracks Rocky down and asks him to be his trainer. Despite his insistence that he is out of the fight game for good, Rocky sees in Adonis the strength and determination he had known in Apollo-the fierce rival who became his closest friend.

Agreeing to take him on, Rocky trains the young fighter, even as the former champ is battling an opponent more deadly than any he faced in the ring. With Rocky in his corner, it isn't long before Adonis gets his own shot at the title…but can he develop not only the drive but also the heart of a true fighter, in time to get into the ring?"
Obviously, it wasn't Stallone who pushed to get this film made – Coogler feels he can and must say something with this material. The mere fact that he chose it to follow up his superb debut makes it all the more interesting. Perhaps an exciting new filmmaker can make a Rocky movie a bit more like the original Rocky. Once again, here's hoping.
6. Director set, Ford returns for Blade Runner 2
Ridley Scott has been messing with his seminal sci-fi film Blade Runner for decades. Scott has made so many different cuts of the film that any sort of subtlety has gone out the window in his quest to tweak the film endlessly. However, the man-of-many-projects has humbly given up his ambition of directing a sequel to the 1982 film. That role has been won by acclaimed director Denis Villeneuve (Enemy, Prisoners, upcoming Sicario). In addition, Ford is returning as protagonist Rick Deckard, in a story set decades after the first film.
Despite previous evidence revisiting Ford in his old roles has extreme diminishing returns (and I say that as someone who liked "Crystal Skull") the nostaglia train is barreling, as he lines up roles in the new Star Wars film, a Blade Runner sequel, and the Indiana Jones reboot. There is a lot more to say about how we as a culture relate to our pasts and how capitalism turns that into consumption and I will touch on all of that in this month's Slogged column.
7. Official Age of Ultron poster, RDJ teases 'big reveal'
This looks like a splat of Avengers jizz on a wall. Seriously, what are Quicksilver and Scarlet Witch standing on up there on the right edge? Why is Captain America half the size of the Hulk and why are Hawkeye and Black Widow a third the size of Cap? Who cares?
Hopefully paying off this miserable poster, RDJ shared on social media that a big announcement would be made on March 5.
Is it a new Spider-Man, cast just in time for an Age of Ultron cameo? Is it an official Civil War press release, the next major tentpole in the MCU coming May 6, 2016? Just as long as it's not another shitty poster.
SOURCES: Badass Digest, Dark Horizons, TheWrap, The Hollywood Reporter, MTV, Facebook etc.